DONUT 1: CLOSING OUT AN EMOTIONAL WEEK
Closure. Less than 24 hours after Dirk Nowitzki played in the final NBA game of his Hall-of-Fame-worthy career to close out the season, the Dallas Mavericks officially tied up all the loose ends of the 2018-2019 season with Exit Interviews before sending the players into the offseason. Although there was so much more said during these interviews yesterday, we've narrowed it down to the best of the best, Mavs Donuts style.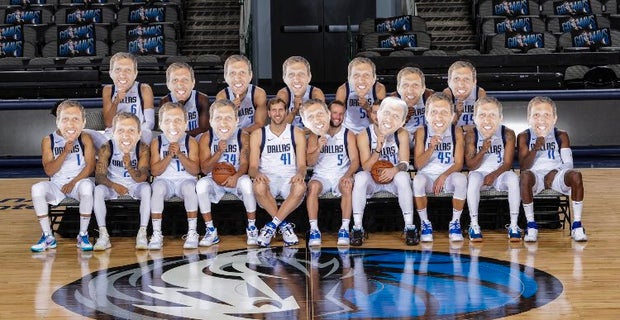 (Photo: DallasMavs)
Staying on theme with the rest of this week, there is a lot of Dirk involved here, but there was also some great things said from the rest of the Mavericks as well. Let's dive in.
DONUT 2: DIRK'S NEW BEGINNING
Nowitzki poured his heart and soul into the Mavs franchise for more than two decades. What's next for the Big German? Some well-deserved rest and relaxation.
"Day 1 of the rest of my life starts," said Nowitzki when talking about his new beginning. "Where I don't have to think basketball at all times. You know, it consumes your energy, and that's the way I wanted it. Like I said yesterday, living, breathing basketball at all times, and it's time to move on. Basketball will always be a big part of my life, but not for now. I need a little break, I need to get away. I need to enjoy other things in life that have come short the last 20 years. I want to travel a bunch. I want to enjoy my family, and now is the time to do so."
"It's not a good bye…I'll be around"@swish41 signing off!! pic.twitter.com/HzONsRJZhe

— Dallas Mavericks (@dallasmavs) April 11, 2019
DONUT 3: TWENTY YEARS IN THE BLINK OF AN EYE
"If you look back now, when I first got here, and I saw some of those old videos with the bowl cut, it seems forever ago, a lifetime ago," said Nowitzki. "But also, some of these memories are like it was just yesterday, you know? Meeting Steve (Nash), getting my first suit. I never owned a suit, so for the press conference after the draft, I had to get a suit fitted. It's so far away, but some of those memories are… I feel like it was just yesterday."
DONUT 4: FEELING THE LOVE HE DESERVES
"The support and the reception has been phenomenal here," said Nowitzki of feeling the love of the fans and the city. "You know, you always here a fan come up to me and (say), 'hey the whole city loves you,' and (you think) that doesn't mean anything, but when you see it actually come together and see some of those videos… saw some people started to cry when they talked about me retiring, and makes it super real. That makes it super real and tough."
DONUT 5: MAVS OWNERSHIP IN DIRK'S FUTURE?
Nowitzki responded to a question in the Exit Interview, saying he'd be "honored" to be a part owner of the Mavs one day. So naturally, we went to the boss man himself to get his thoughts on that idea.
"Absolutely," Mark Cuban told DBcom in an exclusive 1-on-1 interview on Thursday afternoon. "I'll have the convo with Dirk in the future. There is a lot of things involved to make it all work. But it would be awesome." You can read Fish's full piece on Cuban's openness to Dirk being an owner here.
DONUT 6: WHAT JJ WILL MISS MOST
Nowitzki's long-time teammate and Mavs' fan-favorite, J.J. Barea dished on what he will miss the most about playing alongside him.
"The high pick-and-roll with me and Dirk," said Barea. "Man, that was the most fun I've ever had playing basketball."
Not only was it the most fun Barea had, but his years in Dallas playing with Nowitzki were the most productive years of his career, highlighted by the triumphant 2011 championship. In that series, Barea was inserted into the starting lineup with the Mavs down 2-1 in the series, and as we all know, Dallas didn't lose a game after that.
"I knew when he wanted the ball, and when he didn't want the ball," said Barea. "Before, it was 95 percent he wanted the ball. Lately, it was 50 percent."
DONUT 7: BUT WILL BAREA BE BACK?
Barea is still recovering from a torn Achilles he suffered earlier in the season, but he doesn't plan on retiring just yet. In fact, Barea expects to be back on the court by the time training camp rolls around. Before we get to that point though, Barea is an unrestricted free agent this summer, and a new deal will be required if his time in Dallas is going to continue.
"I know what they want. They know what I want," said Barea. "We'll figure it out."
At first glance, that seems like Barea is optimistic that he and the Mavs can workout a new contract, but we'll just have to wait and see how the Mavs other free agency plans pan out first.
Devin Harris, by the way, is in the same boat: A veteran guard, part of the chemistry here, hoping to return.
DONUT 8: BACK TO THE FUTURE
Mavs GM Donnie Nelson knows just how good the team is set up going forward, and it's almost as if they've been here in a very similar situation before.
"It's like 'Back to the Future,' almost," said Nelson. "We started a few years back with a similar, floppy headed European and a point guard from Canada. I think Luka and KP can really do some magical, cool stuff here that hopefully we'll enjoy for 22 years."
DONUT 9: LUKA AND THE LEGEND
Luka Doncic said that the he learned so many things from Nowitzki in his one season sharing the court with him, but the biggest was "his love of the game."
On this week's episode of The Step Back: A Mavs Podcast, Matt Galatzan and I talked about how Nowitzki still being around the team will help the young guys, but that it won't be quite as good as when they got to see the old legend be the first person in the gym and the last person out of it. With Nowitzki gone, Doncic will now be thrusted into a big leadership role with big shoes to fill. But if there's one thing we've learned from this past season, It's that we shouldn't doubt what Doncic can do (you can listen to that discussion, along with reliving Dirk's final days as a Maverick, the final lottery standings and previewing the NBA Playoffs here).
DONUT 10: A CLEAN SWEEP
Staying on topic with Doncic, he has completed the season sweep of the Western Conference Rookie of the Month awards. He managed to accomplish this feat while playing the toughest conference and going up against steep rookie competition in DeAndre Ayton, Jaren Jackson Jr. and Marvin Bagley III. Being that we've reached a point where we can't acknowledge Doncic's rookie accomplishments without comparing them to Trae Young's, I'll mention that Young won all but one Eastern Conference Rookie of the Month award, yet another category Doncic has the edge in (earlier in the week, I took an objective look at the numbers when it comes to Luka vs. Trae — spoiler, Luka is going to win Rookie of the Year by a wide margin).
"We will see," Luka said, smiling. "I'll tell you when the (voting) comes in."
DONUT 11: DWIGHT POWELL EXTENSION?
DBcom has the full story here on Dallas' intentions to keep Dwight Powell, likely via an opt-in-and-extend, which seems to fit Dwight's plans just fine … as soon as, as he explains to Fish, he goes and gets himself in In-and-Out burger. The goods are here.
DONUT 12: THE UNICORN
"He's 'The Unicorn," Salah Mejri said of Kristaps Porzingis. "He got that nickname for a reason. I can see some Dirk in KP."
DONUT 13: THE FINAL WORD
"It's not a goodbye. I'll be around." — Dirk Nowitzki.
Powered by WPeMatico